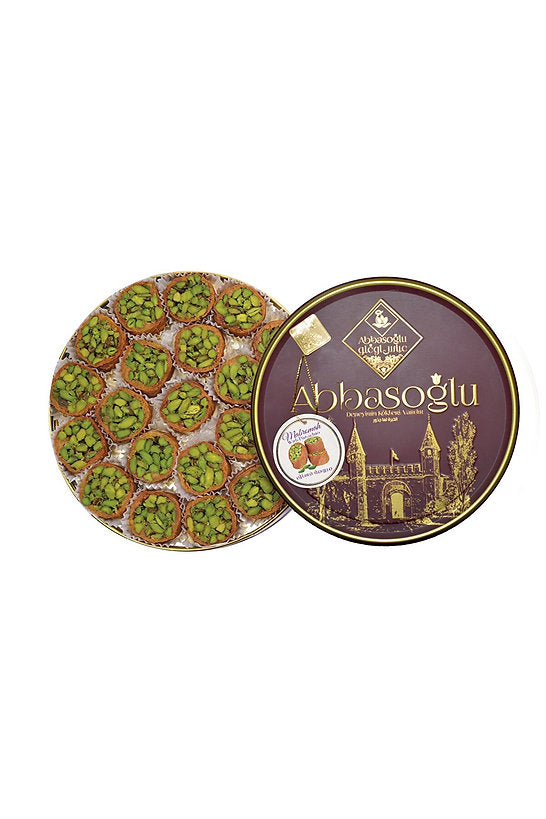 Mabrumeh with Pistachio by Abbas Oglu (500g)
Mabromeh / Mabrumeh / Mabroma / Mabrouma / Mabroumah 
Sweetened premium Turkish Pistachios, rolled with thin strings of roasted knafeh (kunafa) and cut into circles.
DELIGHTFUL TREAT FROM THE EAST: Our Baklava, a cherished Middle Eastern dessert, is celebrated for its sophistication, exquisite flavor, and use of fresh ingredients. Originating from the Ottoman Empire, it swiftly gained popularity in Arabic nations, as well as in contemporary Turkey, Greece, and Lebanon. We are proud to present our authentic recipe in the United States.
GENUINE CULINARY TRADITION: The Baklava recipe we use at Boozengo is a closely guarded, multi-generational secret. Our Pistachio Mabrumeh recipe combines crunchy, unshelled, shredded pistachio walnuts with delicate stringy dough and pure honey, offering an authentic Oriental culinary experience.
CRAFTED WITH PREMIUM INGREDIENTS: Our Halal-certified baklava is a testament to our signature craftsmanship. Meticulously created with fresh ingredients to enhance taste, freshness, and crunchiness, the Boozengo Baklava is not only delicious but also a wholesome indulgence.
VARIED SIZES TO SUIT EVERY OCCASION: Sweetness for every moment! Choose from our 15-piece (250g, 9Oz), 25-piece (500g, 17Oz), 35-piece (750g, 26Oz), or 48-piece (1,000g, 35Oz) gift boxes. Treat yourself or your loved ones to one of the finest gourmet desserts from the Middle East.
PERFECT GIFTING SOLUTION: Packaged thoughtfully in an elegant box-tray, our gourmet baklava is the ideal gift to impress your guests or to celebrate special occasions such as Easter, Thanksgiving, Christmas, Anniversaries, Birthdays, Valentine's Day, or any noteworthy event deserving of an exquisite oriental treat. With 35 servings per box, you're sure to leave a lasting impression.