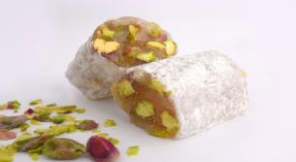 Pistachio Malban Moghabra
Greetings with great taste! Introducing our Pistachio Malban Moghabra, an international favorite! The Pistachio Malban Moghabra is packed with premium grade pistachios and Nougat, then garnished with tasty powdered sugar. 

- Made Fresh
- Gourmet Quality
- Quick Shipping
Malban resembles fruit jelly, except it is traditionally made with fig molasses, thickened with starch and flavored with rose water, mastic or orange blossom and stuffed with pistachios.